Constructing your own space with a shipping container is actually much easier than most would think – it only requires smart planning and compliance. In order to make the process as fluid as possible, we have put together this guide to help you to get your freight container space up and running in no time.
1. Sort out permits, planning, and compliance
It is best to refrain from cutting any corners for this step, as it is crucial to legally set up your work or living space with a shipping container. You will need to get all the relevant permits and planning permission from your local offices to ensure that you are allowed to build a workspace and that the shipping containers being used comply with local and district laws. You will also need to work with either your architect or structural engineer to make sure that your proposed shipping container building is structurally sound and safe grounds. Try to find an architect who has worked with shipping containers in the past, as building with them is completely different to a standard building.
2. Acquire your shipping container
Once your initial plans are approved and you have the documents ready, you will need to procure your shipping containers and have the space available and prepped to do so. The amount and size of the shipping containers you will require will depend on the scale of your plans. Staying in touch with the company or seller you purchased from will ensure that you get the best quality containers that won't break the bank.
It is at this stage where you will need to decide whether you are going to purchase your containers pre-modified from the workshop or if you will do the container modifications yourself. While it might seem cheaper from the onset to do it yourself, it may be easier in the long term to have the modifications and cutting off the containers done by professionals to ensure that they are structurally sound and do not cause any issues during use or placement.
3. Lay the foundations for your shipping container home
A building is only as good as its foundations, and the requirements for your shipping container home foundations will depend on a variety of factors including building site conditions, overall building design, climate, and construction costs. Utilities will be set in their positions as per the plans and a concrete slab will be poured in place. After this step, the site should be ready for placement or construction of the container, depending on how you purchased.
4. Attach the containers to the foundations and each other
Now for the fun part – lowering the container onto the site using a crane. The beauty of shipping containers is their strength and ability to be stacked on top of each other without incurring any damage or sacrificing any structural integrity. Place the containers as per the plans that you had approved before construction in conjunction with your team. This can be made easier by placing steel plates in the foundation as the slab is setting and welding the containers to these to hold them in place.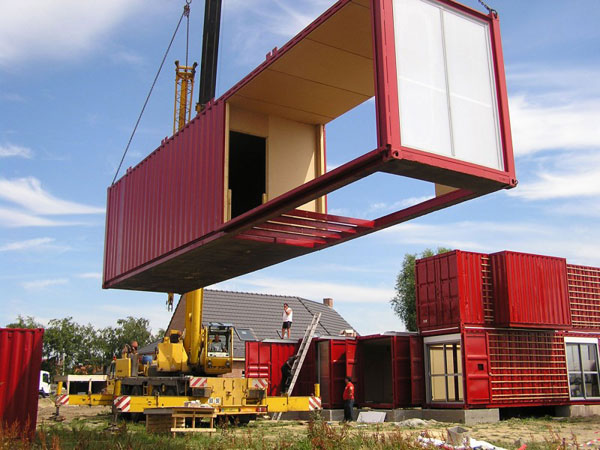 5. Inspection and Signing
Once the containers have been set and the process completed either by yourself or your team per the construction plans provided, it is now time for the finalization of the property. By this point,  everything should have been done properly and by the book, making the building ready to be signed off by inspectors. Arrange the inspector to go through your storage container space and ensure that it is most importantly safe and up to code. Now is your last chance to make any last minute changes and finalizations to the shipping container building.
After this step, you are ready to put the building to use! Whether for a productive workspace or a unique escape, shipping containers can help provide an affordable alternative to renting office space or constructing a new building.